Awards And Testimonials
Couples and families speak volumes about their experience at the Atlantic Ocean Room at the Elks Bass Rocks. We receive many comments such ​as this; "We received so many comments from our guests, saying this was one of the best weddings they had ever been to." What couples realize after their wedding is not just how much they enjoyed being here, but how much their guests also enjoyed being here.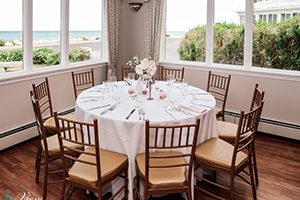 Michele, Married on 10/15/2022: From the first tour of the venue we knew this was the place. Kimberley was so easy to work with and so quick to respond to any question we had. She was so personable and professional. She was always there to make me feel better about anything during the planning process. She knows what shes doing and is AMAZING at her job. She truly made my dreams come true on my wedding day. She was there from the arrival to the bridal suite to the end of the night loading up the cars. Anytime I needed her she was attentive and helped with every bit of the process. I can't thank her enough. The Elks is the most beautiful place for a wedding. I would highly recommend her and the Elks for your wedding day!
Paul and Olivia, Married on 10/9/2022: I would like to say what a pleasure it was to work with Kimberly and Kelley. They both offered help, support, and calmness throughout the process and on Olivia's and my special day! Anyone looking to plan something special should reach out to them! Thank you for everything!!!

Stephanie 10/9/2021
We toured this venue back in September 2019 for our wedding we planned to have in 11.07.20…the venue is beautiful, right on the ocean! We paid our deposit that week and I got to planning the wedding we always wanted! Fast forward to March 2020 and the pandemic made us question if our wedding was even going to happen…I reached out to the event manager and was able to change our wedding date to the following year: fortunately, we were able to keep the same pricing, even though we moved our wedding into "peak season." It proves how willing this venue is to accommodate their customers and keep the process as smooth as possible! It definitely helped make an extremely stressful situation significantly less stressful for us! Kimberley is the new event director and started a few months before our wedding, but it didn't seem like that- she was very attentive and knew what she was doing, which we were very grateful for! If you express what you want, she will deliver it and more! The venue is very affordable, which you won't find anywhere else in Gloucester…especially on the ocean! 10/10
Wendy E. 9/18/2021
Absolutely stunning venue, wonderful coordinator, exceptional vendors, a perfect setup for the BEST DAY EVER! Kimberley was the best coordinator for the venue and answered all my questions with ease and kindness. She made my day so special. The venue is so beautiful, affordable, and absolutely wonderful. We loved it and would highly recommend it!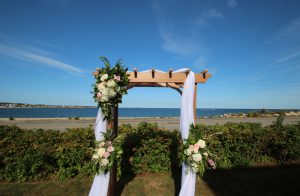 Briana K. (married 10/8/2022): I could not have imagined my wedding day being anywhere else! You cannot beat the view and especially for the price it's unbelievable! Everyone was great to work with and having David for the day of my wedding was more than I could have hoped for. They worked with me on my special vision that I wanted and it came out INCREDIBLE! Everyone absolutely loved the venue as well. Thank you so much for giving us the wedding of our dreams! 
Elyse (married 9/2021): It all started because my now husband and I didn't want a big deal kind of wedding. We got engaged in December of 2019 and looked into low-key venues on a budget for 2021. We came across The Elks at Bass Rocks and booked it as soon as we saw it. Even though it was February and pouring rain, we just knew it was perfect. Then, of course, the world ended for a little bit, and we didn't really worry too much about wedding planning until I realized, OMG I should worry about wedding planning. That's when I met Kim. She responded to my many emails almost immediately and put me at ease while simultaneously letting me know what I had to get done, when, and how.
When we visited the Elks again, just before our wedding, it was another gloomy day but the room and the view was still absolutely gorgeous. We met Kim and got right down to business. She made us feel right at home, answered any and all of our questions and made sure we had dotted every I and crossed every t. I am an incredibly anxious person, never mind planning a wedding and after our very first meeting I just knew I was in good hands for one of the biggest days of our lives.
BOY did she NOT disappoint. Kim was by my side either literally, or via phone nearly all weekend. No matter how silly it seemed, or how many times I asked her if I was a crazy bride, she had the perfect answers to questions I didn't even know I had yet. Throughout the entire wedding process she told me where to be and when and again, as someone who suffers from severe anxiety, I cannot explain how helpful this was and how much it meant to me. All the while, Kim was actually putting out fires for me left and right that I had NO IDEA about until after the wedding. She absolutely went above and beyond and for this we are so thankful. We had the BEST wedding weekend ever. The weather was beautiful. The venue is so GORGEOUS my guests didn't even notice we didn't have flowers (we are both allergic). One of my guests shared with me that he thought since we were getting married at an Elks it would be like a big old room in a basement. He was floored at just how gorgeous the Elks at Bass Rocks is, and for the price? I'd never go anywhere else. Well, maybe if Kim went somewhere else… aha! Seriously, the BEST! Thank you, thank you thank you!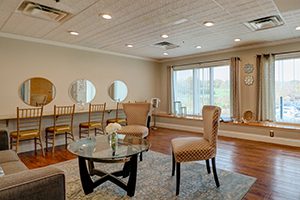 Megan – review posted on "The Knot" 11/14/2022 – So many of my guests were shocked by the breathtaking views and how beautiful the room at the Elks was. My husband and I started working with Kimberley last year when I chose this venue just from having attended weddings there previously and loving the view. Kimberley has always been professional, personable and quick with all communication. She answered any questions I had. The day of, her and her team took care of me like I've never seen a venue do. They brought us drinks, always asked if we needed something or anything, ensured we were having fun. Kimberley was with me the moment I stepped off the trolley to the end of the night packing the car. She treated me like a family member throughout the entire process, not just another bride. I would strongly recommend this venue. Between the amazing support I received and how beautiful it was, you can't go wrong.
Deanna (married 9/25/22): Incredible – I cannot give this venue enough praise, more specifically our coordinator at the Elks, Kimberly. From the first meeting with her through our wedding day, she listened to our ideas and vision, was professional and receptive. She took my vision and EXCEEDED all of my expectations. I was in awe when I saw the room and how she was able to create exactly what I had hoped for in my mind. Kim made me feel like my wedding was the only one of the year, when I know that they had many all weekend. The view for our ceremony and reception was unmatched and the convenience of having a beautiful hotel right next door was perfect. I never even considered another venue following our first visit and I am so beyond happy with our choice. I cannot recommend them enough.
Robin L. (married 9/24/22): Perfect Venue for an Oceanside Wedding! – We held our wedding this weekend at the Elks at Bass Rocks in Gloucester, MA. It was a perfect venue for a wedding! This is not your typical Elks. It is rated number one in the country in terms of beauty. There were gorgeous views from the Atlantic Ocean Room and our ceremony was held on the front lawn with the open ocean as the backdrop. I can't say enough about the Director of Events and Wedding Coordinator at the Elks, Kimberly Banks and Kelly Smith. They made sure every detail was perfect and that everyone was in the right spot at the right time. I thought we would be setting up our own signage and other items in the hall. They took care of all of it so I could just enjoy the day. The Elks has two really nice hotels next door to the venue and there are plenty of other places to stay in the area, both hotels and Airbnbs. Our guests from out of town enjoyed spending time in Gloucester and Rockport and all commented on the beauty of the area. A nice feature of the Elks was the bridal suite, which we had access to from 9am that day for hair and make up. It was the perfect room for my bridesmaids and I to get ready in, equipped with a small refrigerator and private bathroom. All in all, I couldn't have asked for a better venue or day.
I have to also mention the vendors I used, all of which were phenomenal. Vinwood Catering out of Ipswich, MA provided food. I was told it was the best wedding food people had ever had. I used Audrey's Flower Shop in Gloucester for our flowers and they were gorgeous and reasonably priced. Our DJ and Photography team, Curtis Knight Entertainment did an amazing job serving as both our DJ, MC and photographer. He had a slideshow running in real time as photos were captured from the day. Topsfield Bake Shop provided our cutting cake and cupcake tree and both were great. All in all it was the perfect day – better than I ever could have imagined! 🙂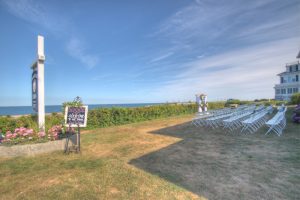 5 Star Review! (from Facebook) I can't say enough about this venue and its staff. Everything was flawless and beautiful and our day was absolutely amazing. Thank you so much to your staff, who stayed from start to finish to make sure everything was perfect. – Kerri Marini
Amelia (married 9/3/21)
We had our wedding at the Atlantic Room at the Elks at Bass Rocks on September 3, 2021. Kimberley and the entire staff there were beyond fantastic. She made sure that everything ran smoothly from the time that we selected that venue. She is extremely hands-on throughout the process and whether it was a last minute lay-out change for the seating or the fact that I called her about two hours before the ceremony to find a makeup artist as mine had to cancel due to an emergency. She and the entire staff are consummate professionals. Everyone raved about the food by Creative Catering which is one of their preferred vendors, and she and Lori worked seamlessly. I simply can not thank everyone enough for an amazing day and would absolutely recommend The Atlantic Room for a wedding or any other type of function.
Amy M. (married 9/18/22)
Kimberley Banks is incredible! We decided to plan our wedding 6 months ago and she made it seamless for us. She is energetic, detail oriented, and didn't miss a beat. My guests are still talking about what an incredible job she did. The wedding was beautiful. She worked well with the vendors and I didn't have to remember any last minute details because she remembered all of them. Thank you Kim for making our dream come true. Love, Mr. & Mrs. McCormick
Maggie A. (married 9/9/22) Beautiful Wedding and Amazing Experience
My husband and I got married at The Atlantic Ocean Room early September 2022. From the start we had such a great experience. Everything is outlined clearly and they are so responsive to any questions that came up. Kimberly, the events director was so nice and professional and knew what she was doing and was able to help with all the logistics that go along with a wedding! The day of coordinator Patty was also nice and easy to work with and everything went so perfectly !! The venue is absolutely stunning and all of the guests were wowed at the views! 10/10 recommend!