Fun Things To See And In Gloucester and Cape Ann!
Gloucester is a historic city with a wide variety of museums, restaurants, shops, exhibits and other fascinating venues. Scenic Rockport is just a few minutes away. Take a whale watch or a fun cruise with Cape Ann Whale Watch in season (we can get you discount tickets!) and enjoy a number of other attractions.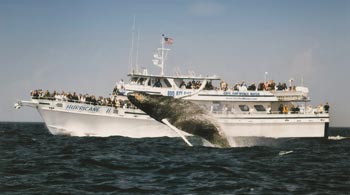 Quality, Comfortable Lodgings Nearby
Rockport Inn & Suites- private room to rent for after party
183 Main Street, Rockport, MA. 01966: (978) 546-3300
http://www.rockportinnandsuites.com/ 
Atlantis Oceanfront Inn- (May – October)
125 Atlantic Road Gloucester, MA 01930: (978)-283-0014
http://www.atlantisoceanfrontinn.com/ 
*Ocean House Hotel at Bass Rocks – (Open May-October) 2-night minimum stay  (jpalmquist@newporthotelgroup.com)
107 Atlantic Road, Gloucester, MA 01930: (855) 982-5646
http://www.oceanhousegloucester.com/ 
Gloucester Inn by the Sea                                                     
85 Atlantic Road, Gloucester, MA 01930: (978) 283-8025
http://www.gloucesterinnbythesea.com/ 
Cape Ann's Marina Resort – (Open Year-Round)
75 Essex Avenue, Gloucester, MA 01930: (978)-283-2116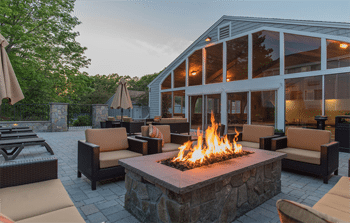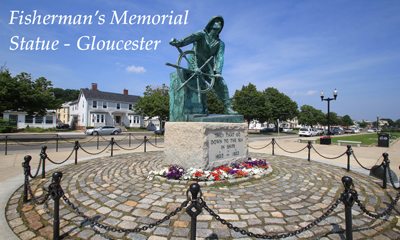 Fisherman's Memorial Statue
Resting on a granite base in the center of Gloucester's long, narrow Stacy Esplanade is the Gloucester Fisherman's Memorial. It is an eight-foot tall, bronze statue of a fisherman dressed in oilskins standing braced at the wheel on the sloping deck of his ship. It is positioned so that the fisherman is looking out over Gloucester Harbor. The English sculptor Leonard F. Craske (1882-1950) designed the sculpture, and it was cast by the Gorham Company of Providence, Rhode Island, in 1925. A small plaque on the north or street-facing side of the base reads, "MEMORIAL TO THE GLOUCESTER FISHERMAN, August 23, 1923." A larger recessed panel on the front or harbor-facing side of the base holds an inscription of bronze letters taken from the 107th Psalm, which reads:
THEY THAT GO
DOWN TO THE SEA
IN SHIPS
1623 – 1923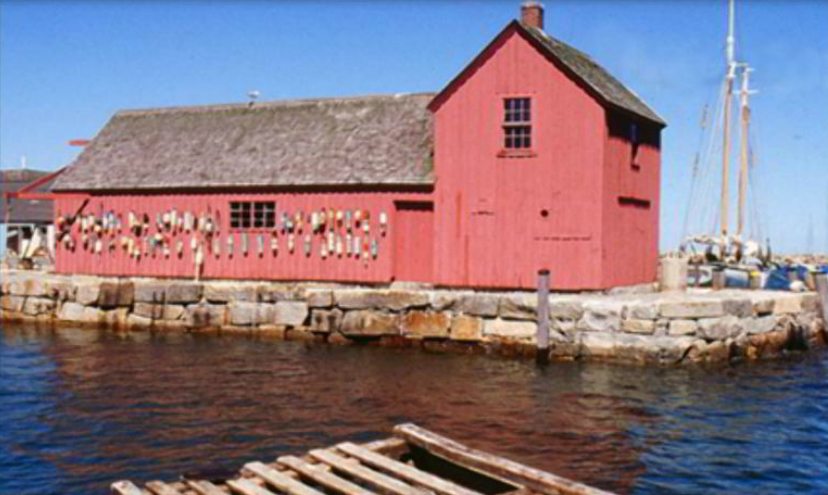 Motif No. 1
A red fishing shack at the end of a granite wharf in Rockport, Mass.,  is an unlikely celebrity. The picturesque old building, known as Motif No. 1, may be the most painted building in the United States — if not the world.
It has also appeared in movies, as an award-winning float, on magazine covers, on a postage stamp, in a 1960s Winston cigarette ad and as a Kentucky bourbon bottle.